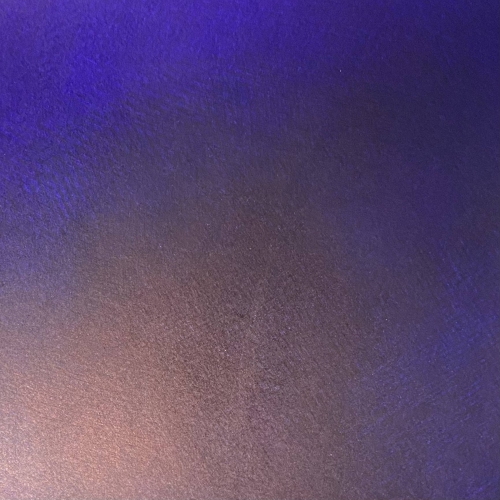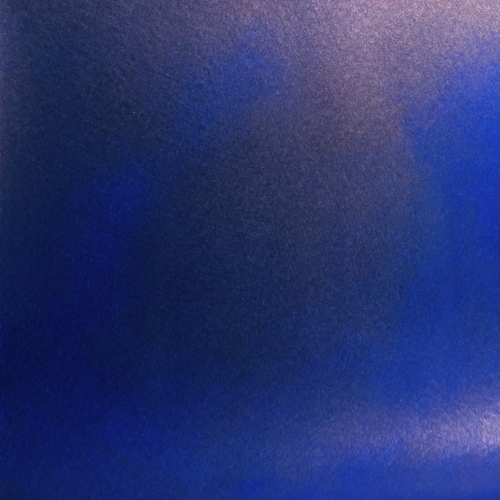 Italiano
La ricerca che l'artista non cessa di rilanciare è quella sul tempo, che dall'antichità resta come un cardine nelle riflessioni di filosofi, poeti, scrittori, musicisti e artisti.
I segni di inchiostro, infinitesimi e indefiniti che, instancabilmente, l'artista dipana sui fogli di carta, si infittiscono come indelebili notti uniformi o metaforiche, nere o blu. Talvolta è il blu che filtra nel nero, oppure è il nero che annotta ogni blu.
I fogli si posano come foglie, uno appresso all'altro, nella regolarità di una misura costante. A guardarli in risma, col nerbo dell'inchiostro che li incurva, paiono il pullulare di ciò che è stato e di ciò che non è stato nel tempo, di ciò che avrebbe potuto essere e di cui la storia non è che un frammento: versione di un'eternità immaginata da Borges. Poi l'artista li sceglie. Li compone. Affinché un gruppo funzioni. Affinché sia un unico squarcio di tempo, un quadro, in cui al senso, provvisoriamente, sia concesso il sopravvento. Più in là, davanti alle mani dell'artista, quasi una Pierrot Lunaire, così cara a Schönberg, il muto orizzonte, come un libro di magia chiuso. 
In questa sua inedita ricerca sul tempo l'ossessione dell'artista non è il cardinale, il numero che nomina il passare, come fu per Roman Opalka; neppure è la data che dà il nome ai giorni e alle cose in cui si immerge il presente, come fece On Kawara; e neppure è il perpetuo distendersi o agglomerarsi di un corpo di scrittura illeggibile e significante come in Irma Blank. Per Silvia Inselvini, i fogli popolosi e molteplici nati dallo svuotarsi d'inchiostro della mano, sono cancellazione e rivelazione. Sono il dimenticarsi per conoscere. Sono i ritmi incessanti in cui prende corpo l'infinito. Sono lo stile del tempo.
Il gesto di una mano che scrive. La leggerezza della penna che piano segna. La grazia delle dita chiare sulla ruvida chiarezza di un foglio. E il suo tingersi, a poco a poco. Uno specchio che si travasa in un altro specchio. Notte. Lo specchio s'oscura, diventa visibile. L'altro s'accende, accede all'invisibile.
Leonardo Conti
English
The research that the artist doesn't cease to revamp is the one related to time, a pervasive presence in the reflections of philosophers, poets, writers and musicians since ancient times.
The minuscule and indefinable ink marks that the artist tirelessly unravels on paper sheets grow progressively thick, just like uniform, metaphorical nights. Black or blue. Sometimes blue seeps into black and other times black darkens blue.
The sheets settle like leaves, lying next to one another, in the symmetry of a constant dimension. To look at them in a ream, bowed beneath their inked burden, there is a perception of what has been and what has not; of what could have been, and whose history is but a fragment. Then the artist selects the pieces and combines them.
In this innovative research into time, the artist's obsession is not related to cardinal numbers witnessing and measuring the passing of time, as in the works by Roman Opalka; nor does a date denominate the days or things in which the present is immersed, as in the works by On Kawara. The research is not even expressed through a perpetual cycle of stretching and compressing illegible yet significant writing, as in the works by Irma Blank. To the artist, the numerous and densely populated sheets, generated by emptying the pen on the paper, are both cancellation and revelation. They represent the act of forgetting in order to learn. They embody the incessant rhythm that shapes infinity. They incarnate the style of time. The movement of a writing hand. The grace of a pen that slowly leaves its mark. The paper that is tinged, little by little. A mirror pouring into another mirror. Night. The mirror grows dark, thus becoming visible. The other lights up, accessing the invisible.
Leonardo Conti
SOLO SHOWS
__2021
>ÉREBOS
curated by Camilla Remondina e Melania Raimondi, in collaboration with IAGA Contemporary Art, Fondazione L'Arsenale, Iseo, Brescia
>THE COLOUR OUT OF SPACE
Galerie Lesmeister, Project Room, Regensburg, Germany
__2020
>NIGHTS LIKE LIGHTS
curated by Leonardo Conti, Poliart Contemporary, Milano (catalog)
__2019
>RIVELAZIONI
from an idea of Alberto Perobelli, curated by Ilaria Bignotti, IAGA Contemporary Art Gallery, Cluj-Napoca, Romania (catalog)
>LE FORME DEL TEMPO
curated by di Maria Cristina Maccarinelli and Kevin McManus, Fondazione Leonesia, Brescia
__2016
>EADEM MUTATA RESURGO
from an idea by Alberto Perobelli, curated by Walter Bonomi, IAGA Contemporary Art Gallery, Cluj-Napoca, Romania (catalog)
GROUP EXHIBITIONS
__2022
>IX VAF PRIZE finalists exhibition, Stadtgalerie Kiel, Germany
>TAKE YOUR TIME, TONGYEONG TRIENNALE 2022, South Korea
>PARATISSIMA TALENT PRIZE 2022, Scuderie e Galopattoio ARTiglieria, Torino
__2021
>DIALOGHI SICILIANI
curated by Matteo Galbiati, Palazzo Duchi di Santo Stefano and former Chiesa del Carmine, under the patronage of Catania Art Gallery, Taormina
>SANATORIUM
curated by Maria Carmela d'Angelo and Sara Maietta, Paratissima, Torino | Winner of Best NICE artist 2021 and Best Talent Prize (catalog)
>ULTRAROMANTICISMO
curated by the collective Ricognizioni sull'Arte, Palazzo Ducale Pavullo nel Frignano, Modena (catalog)
>ARTE LAGUNA PRIZE 15th and 14th finalists exhibition, Arsenale di Venezia
>BEN ORMENESE E I SUOI TEMPI
curated by Leonardo Conti, Municipal Art Gallery of Gaeta, Latina (catalog)
>THE CIRCLE
curated by CICA Museum, Gimpo, South Korea
__2020
>RILEVAMENTI2
curated by Bruno Corà, with critical texts by V.Catricalà,T.Evangelista, A.Iori, A.Tecce, M.Tonelli, CaMusAC, Cassino (catalog)
>RIGENERAZIONI
curated by I.Bignotti, M.Corradini, G.Galli, A.L. Ghirardi, G.Guiotto, F.Lorenzi, Galleria AAB, Brescia (catalog)
>GESTOZERO, Istantanee 2020
from an idea of Maurizio Donzelli and curated by I.Bignotti and ACME Art Lab, G.Fasol e M.Galbiati, traveling exhibition among Brescia, Bergamo, Cremona (catalog)
__2019
>GEMINANTIS with Laura Renna
curated by Melania Raimondi, with the supervision of Ilaria Bignotti, Spazio Contemporanea, Brescia (catalog)
__2018
>GENERATIONS
curated by Ilaria Bignotti, with Serena Fineschi, Nancy Genn, Silvia Infranco, Sophie Ko, Veronica Vázquez, Marignana Arte, Venezia (catalog)
__2015
>BIENNALE GIOVANI MONZA
curated by A.Bernardini, I.Bignotti, F.Cavallucci, C.Cerritelli, E.Grazioli (catalog)
>RICERCHE NEL QUOTIDIANO, Andrea Francolino, Afran e Silvia Inselvini a confronto, curated by Andrea Dall'Asta SJ, Ilaria Bignotti, Matteo Galbiati, Michele Tavola, Galleria San Fedele, Milano (catalog)
__2014
>LA CREAZIONE , Visual Art Prize San Fedele 2013/2014
curated by Andrea Dall'Asta SJ, Galleria San Fedele, Milano, (curators and critics special mention, catalog)
>LEARNED BY HEART, with Airin Toscani
curated by Elisabetta Scigliano, Galleria Adiacenze, Bologna
__2012
>E QUINDI USCIMMO A RIVEDER LE STELLE: il viaggio Visual Art Prize San Fedele 2012
curated by Andrea Dall'Asta SJ, Galleria San Fedele, Milano, (catalog)
>L'UOMO – LE TRADIZIONI, Biennale Roncaglia Prize under25
curated by Ilaria Bignotti, Amerigo Mariotti, Elisabetta Modena,Valentina Rossi, Marco Scotti, Daniela Tozzi, Municipal Theatre, San Felice sul Panaro
AWARDS
__2021
>PARATISSIMA, winner of Best NICE artist and BestTalent Prize (catalog)
>ARTE LAGUNA PRIZE 15th edition finalist
__2020
>VAF PRIZE finalist with works from the series Notturni (catalog)
>ARTEAM CUP VI, finalist with a work from the series Notturni (catalog)
>DUCATO PRIZE, finalist with a work from the series Notturni (catalog)
__2019
>ARTEAM CUP V edition finalist with a work from the series Notturni and winner of Espoarte Prize (catalog)
>COMBAT PRIZE X edition Graphic Section Winner with a work from the series Notturni (catalog)
__2015
>BIENNALE GIOVANI MONZA Winner of Rottapharm Biotech Prize, with the work I Giorni (catalog)
__2014
>VISUAL ART PRIZE SAN FEDELE, La creazione Winner of Curators and Critics special mention (catalog)
__2012
>BIENNALE RONCAGLIA PRIZE under25, "L'uomo- le tradizioni" San Felice sul Panaro, Modena. Winner (catalog)
>VISUAL ART PRIZE SAN FEDELE, E quindi uscimmo a riveder le stelle – Il viaggio, Finalist (catalog)
PUBLICATIONS
__2021, Paratissima, group exhibition catalog
__2021, Ultraromanticismo, group exhibition catalog
__2021, Ben Ormenese e i suoi tempi, exhibition catalog, curate by Leonardo Conti
__2021, Arteam Cup 2020 VI Edition catalog,curated by L.Savorelli,M.Galbiati,ISBN 978-88-6057-482-4
__2020, Rilevamenti2, curated by Bruno Corà, exhibition catalog
__2020, GestoZero, Istantanee 2020, exhibition catalog
__2020, Rigenerazioni, exhibition catalog, AAB, Brescia
__2020, DucatoPrize finalists catalog
__2020, Espoarte magazine, n.109, interview by Alice Vangelisti, ISSN 2035-9772
__2020, Nights like Lights, solo exhibition catalog, Poliart Contemporary, curated by L.Conti
__2020, Rivelazioni, solo exhibition catalog, curated by I.Bignotti ISBN 978-88-8486-799-5
__2019, Arteam Cup 2019V Edition catalog,curated by L.Savorelli,M.Galbiati, ISBN 978-88-6057-450-3
__2019, Combat Prize X Edition catalog, curated by P.Batoni, ISBN 978-88-3340-106-5
__2019, Meccaniche della Meraviglia catalog, a project by Albano Morandi, ISBN 978-88-8486-799-5
__2018, "Generations" group exhibition catalog at Marignana Arte, curated by I.Bignotti
__2018, "L'opera d'arte come processo creativo, un dialogo tra Laura Renna e Silvia Inselvini" degree thesis by Melania Raimondi
__2016, Eadem Mutata Resurgo, solo show catalog, IAGA Contemporary Art, texts by Walter Bonomi, Olimpia Bera
__2015, Ricerche nel quotidiano, Andrea Francolino, Afran e Silvia Inselvini a confronto, group exhibition catalog, texts by A.Dall'Asta SJ, I.Bignotti, M.Galbiati, M.Tavola __2015, Biennale Giovani Monza 2015 catalog, text by D.Astrologo, C.Ercoli, G.Genghini, I.Bignotti, ISBN 978-88-7511-253-0
__2014, Espoarte magazine, n.85, text by Ilaria Bignotti, ISSN 2035-9772
__2014, La Creazione, Premio San Fedele 13/14 catalog, texts by D.A.Abdal, i.Bignotti, C.Canali, A.Dall'asta SJ, M.Galbiati, C.Gatti, M.Marchetti, K.McManus, M.Tavola __2012, ll viaggio, Premio San Fedele 11/12 catalog, texts by D. Astrologo, I.Bignotti, C.Canali, A.Dall'Asta SJ, M.Galbiati, C.Gatti, M.Marchetti,K.McManus, M.Tavola
__2012, Premio Nocivelli, finalists catalog, texts by Ilaria Bignotti, Matteo Galbiati
__2012, Passato Prossimo, Arte nell'epoca della post-tradizione, Biennale Roncaglia 2012 Catalog, curated by I.Bignotti, E.Modena,V.Rossi, M.Scotti